This list I am about to roll out is not about books published in 2010, but books that I read in 2010 and enjoyed. Unfortunately I am neither a book reviewer who receives the latest SF and Fantasy titles (on second thought, I don't think I could manage to review with the intensity and frequency those guys do. They have my utmost respect), nor am I loaded down with disposable income. I receive most of my books as gifts for birthdays, Father's Day, Christmas, Flag Day, etc.
In most cases, I've provided a link to either the publisher, a bookseller, or the author's page. As a bonus, if you click on the cover of each book, it'll take you into a magic world of chocolate waterfalls and phantasmagorical nightmares, or, rather,  a review of the book.
Perdido Street Station – China Mieville
This was my intro to Mr. Mieville and I have to say that even though I read it almost 12 months ago, the images still stick with me. Mieville drives home some points overly much, but, if anything, adds a bit of charm to the whole thing. This is fantasy clad in weird science fictional robes. I may just have to read it again soon.
The Passage – Justin Cronin
This honker of a book justified the hype that came with  it. Dude raked in over 4 million clams before he had even finished the first book (three book deal and movie rights purchased by Ridley Scott). I literally couldn't put it down. Have you ever showered with 750 pages of book in your hand? I didn't think so. Read this and you'll know what I mean.
Titus Groan – Mervyn Peake
This is a late entry. I just finished it a few days ago and am into the next title, Gormenghast. In truth, it was a slow burn, but after Peake sets the table, it's a smorgasbord of satisfying strangeness. The climax in particular is haunting. What I first thought was dense prose became easy reading. It reminded me of Dickens only more interesting.
The Girl with the Dragon Tattoo – Stieg Larsson
This one also starts a little slow, but holy moly, the book almost caught on fire I was turning the pages so fast. I managed to finish it in record time and then wrapped in a curtain and rolled it around on the floor.  There are things that might turn off some readers, but any story that demands you finish gets my respect.
The Windup Girl – Paolo Bacigalupi
I wrote a post on this not long after I finished it. If nothing else, Bacigalupi's conception of our world in a post-oil era is stunning. But The Windup Girl is so much more than that. I look forward to reading it again.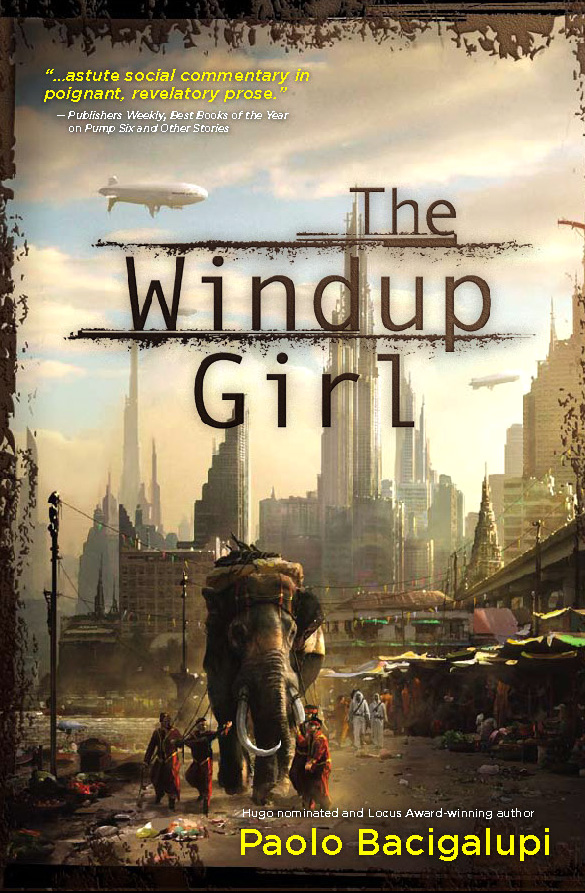 The Anubis Gates – Tim Powers
After reading The Difference Engine, I was leery of jumping into this one. Turns out that fear was unnecessary. Powers weaves a potent tale of time travel that starts you out in the dark and gradually draws back the shades. By the end, I was nodding my head and smiling. Very satisfying.
Finch – Jeff VanderMeer
Every time I look at the cover of Finch, I get a little giddy. The whole presentation of the story is superb, from the staccato pulp noir prose to the world-building to the tone. If you like your fiction off-center and a lot weird, this is one for you. If you're allergic to fungus, get an allergy shot first.
The City and the City – China Mieville
China Mieville almost made this list thrice, but in the end, I did not include The Scar although I enjoyed it very much. I did include The City and The City because of how utterly different it is from Perdido Street Station. Where Perdido Street Station is steeped in Lovecraftian weirdness, The City is much more subtle. It is a police procedural, but like Finch, there is a fantastic element to it that revolves around two cities whose edges overlap in some strange extradimensional way.
The Book of the New Sun – Gene Wolfe
I include the whole series here because you have to read all four books or you'll be left wondering, "WTF did I just read?" if you don't (you might still think that after reading all four books, but at least there's closure). Gene Wolfe has a way with words. Like Mervyn Peake, once you get into the swing of things, these books read at a nice pace. The way Wolfe weaves everything together is perhaps the most satisfying aspect of the series. Get your dying earth on with Severian (the protag). Can't remember which author said it, but after they read this series they thought, "I didn't know you could write fantasy like that."
The Road – Cormac McCarthy
Stark, moving, horrific at times, haunting at others. Frankly, any of the Cormac McCarthy books I read this year could be on this list (All the Pretty Horses, No Country for Old Men and this one). The man knows how to turn a phrase for maximum effect and he has a knack for cutting to the heart of so many of the things we think about every day.  If you have children, it's even better.
There you have it. If you haven't some of these, check 'em out. Hope your 2011 is filled with words, whether you are reading or writing.